Product description
Shipping & Return
The N.S. PRO Zelos 8 employs newly developed, cutting-edge, high-intensity NZNS60 material that outperforms all other patented materials used in N.S PRO competitors' steel shafts.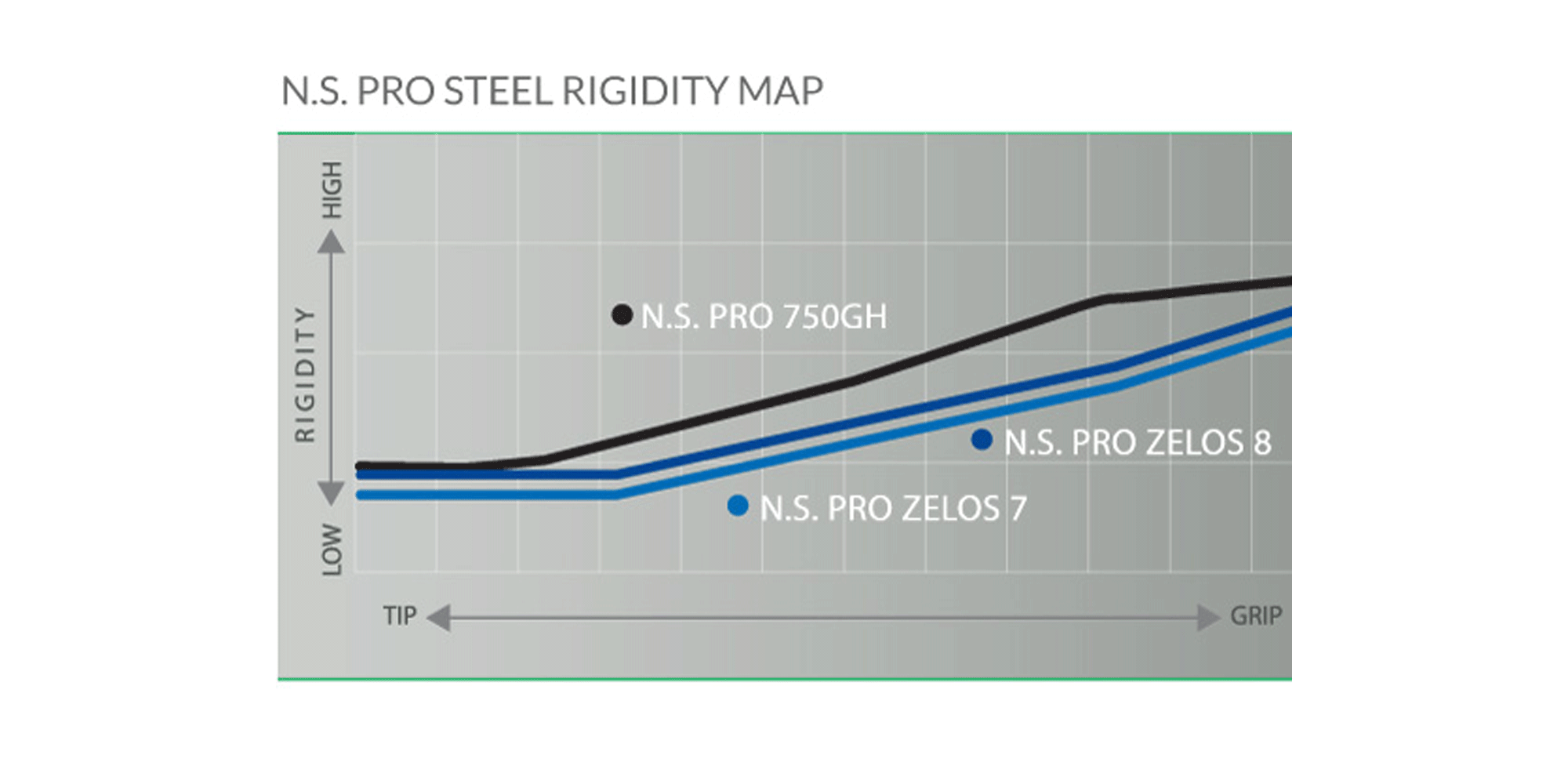 In fact, it delivers the smooth control and performance of high-carbon material. The superior performance of its newly developed material contributes to a more stable swing and definitive impact.
Target Market:
• Players that would like to use steel shaft, but do not have enough power (swing speed)
• Current graphite shaft players.
• Golfers not satisfied with graphite shafts.
PRODUCT

FLEX

LENGTH INCH
(IRON #)

WEIGHT
(G)

BALANCE POINT
(%)

TORQUE
(°)

KICK POINT

SHAFT DIAMETER
(IN)

Butt

Tip

RI-4G15PRO

R

38.5~35.0(#3~#W)

51.2

Tip

0.580

0.355

SI-4G15PRO

S

87.50

2.2
BACKGROUND
Inspired by ZELOS, the Greek god of rivalry, the name ZELOS was chosen to encourage competiveness among steel-shaft users who relentlessly seek progress.

N.S. PRO ZELOS 8 is designed with a low kick point and evenly distributed rigidity, which delivers more than ample flexibility from tip to butt. The ZELOS8 is easy to handle with an extremely smooth swing and gentle touch, combined with the exact swing characteristics of a graphite iron shaft model.
You will be able to "Track your order" via our website, or simply click 'View your order' in the email once the tracking information is updated by the courier provider. Alternatively, you may wish to track your order via this tracking system directly (click here)
*If you are unable to track your order here, please email your tracking number to us at sales@vingolf.com.my. We'll try our best to assist you within 5 working days. Thank you for your kind understanding. 


SHIPPING WITHIN MALAYSIA (DOMESTIC FULFILLMENT)

• Shipping fees is FREE for minium order RM 200 (for limited promo time) within West Malaysia.
• Estimated delivery time to West & East Malaysia is 2 - 30 working days.
• You will receive your tracking number via email once your parcel has been shipped out.
• Expect delays during festive periods and sales promotion period.
• We do not accept any order cancellations upon dispatch of your order.

INTERNATIONAL SHIPPING

• We ship worldwide via DHL International Priority and TNT(Fedex) .
• Expedited International shipping will take 3-7 working days.
• We provide Worldwide Shipping. All rates will be auto calculated at checkout page.
• You will receive your tracking number via email once your parcel been shipped out.
• We do not accept order cancellations upon dispatch of your order.

CUSTOMS & IMPORT DUTIES

• Any customs or import duties are charged once the parcel reaches its destination country. These charges must be paid by the recipient of the parcel 
• Unfortunately, we have no control over these charges, and cannot tell you what the cost would be, as customs policies and import duties vary widely from country to country.